The St. Louis Legacy Ensemble partners professional musicians with dedicated and talented music students in educational performances, Classes, and rehearsals.
St. Louis Legacy Ensemble is teaching the future generation of musicians, employing the current generation, and celebrating the past generations of our city's musical heritage. We partner professional musicians with dedicated music students in concerts, classes, and rehearsals.
We hire St. Louis' "A-List" professional musicians and music educators to mentor, instruct, and perform with our students. In our programming we pay homage to the greats of St. Louis past like Miles Davis, Chuck Berry, Tina Turner, Oliver Sain, and others.. We write and record our own original songs which are bluesy, funky, and soulful. St. Louis Legacy Ensemble performs in concerts and festivals in and around the city. Most of our students are preparing for a career in music and we offer our guidance free of charge while providing paid employment for professional and college musicians.
St. Louis Legacy Ensemble is the vision of its founder and music director Joe Pastor who noticed a need for quality education in blues and R&B. We wish to ensure that the future musicians of this city recognize the importance of St. Louis' musical heritage and to help them continue that rich legacy. We provide a unique and very real-world educational experience for our students who gain skills and concepts not often taught in traditional music classrooms.
St. Louis Legacy Ensemble is a 501(c)(3) non-profit organization.
We are currently recruiting students to join us! Ask for more information.
Like us on facebook
SCROLL to the BOTTOM
FOR OUR CALENDAR
and for MORE VIDEO!
About the Founder and Music Director, Joe Pastor
Joe Pastor is currently the Director of Music at Bishop DuBourg High School., and adjunct professor of music at Jefferson College.. He has a Master's of Art in Teaching, and a Bachelor of Music Performance in percussion, jazz emphasis. He has the experience of literally thousands of professional gigs as a drummer, vibraphonist, orchestral and world percussionist. Joe recorded with the legendary Rock and Roll Hall-of-Fame inductee Johnnie Johnson in 2004, and with many others including Juno Award-Winning Kenny "Blues-Boss" Wayne, and Bennie Smith, and has performed with Javier Mendoza, Soulard Blues Band, the MADCO Dance Company, and many, many others. Joe Pastor is a published, award-winning, and commissioned composer of music for percussion, chamber ensemble, and symphonic ensembles.
In 2013, after 15 years as a full-time musician, Joe completed a master's degree and began his second career as a music teacher. Previous to his current appointment, he has served as the Music Director for the School of Rock Kirkwood, and elementary and middle-school music teacher at Premier Charter School. At Jefferson College he has taught MSC-101 Fundamentals of Music, Jazz Combo, Percussion Ensemble, and Private Applied Percussion Lessons. As director at DuBourg he teaches Concert Band, Jazz Band, Mixed Chorus, Guitar, Piano, and Music Appreciation.
Associations: NAfME, ASCAP, Percussive Arts Society, Bachovich Music Publications, AFM Local 2-197.
The Legacy Ensemble is for students who have the desire to become professional musicians and need extra education that is not ideal for high school classrooms in which many or even most of the students will not pursue careers in music. In the real world, things don't always go according to plan. Veteran musicians know how to handle these situations. Our students learn things that are not taught in the traditional class room, and they do it in the presence of musicians who have been around the block. And the skills and concepts that are needed are taught in classes, clinics, and rehearsals by these same musicians.
Past Events
Sheldon Concert Hall

Benton Park Concert Series

Lafayette Park Concert Series

Bluesweek Festival

Grub and Groove at Francis Park

Showcases at BB's Jazz, Blues, and Soups

MADCO modern dance concert

Gaslight Studio Recording Camp
Past Mentoring Professionals
Steve Ewing (Singer/Songwriter of The Urge)

Keith Robinson (Drummer, Chuck Berry, Barbara Carr, Oliver Sain)

Gus Thornton (Legendary Bassist, Albert King, Stevie Ray Vaughan, Johnnie Johnson)

Brian Casserly (Trumpeter, Songwriter, Leader of Cornet Chop Suey, MADCO Dance Company Music Director, Freelance)

Matt Henry (Associate Professor of Percussion at UMSL, Freelance, MUNY, Union Avenue Opera, Funky Butt Brass Band)

Rich McDonough (Guitarist, Bandleader, Stl Blues Society Musician of the Year)

Tom Byrne (Guitarist, Tom Byrne Quartet, Educator, Composer, Webster Univeristy)

Cody Henry (Trombonist, Sousaphonist, Jefferson College, Funky Butt Brass Band)

Kasimu Taylor (Trumpeter, Kasimu Taylor Quartet, Dr. Zhgivegas, Freelance)

Dan Rubright (Guitarist, Composer, Music Educator, Non-Profit Administrator,

Wire-Pilots, Freelance)

Matt Rowland (Guitarist, Jesse Gannon Truth, Carrie and the Catapults, Ralph Butler, Freelance)

Nick Savage (Drummer, Multi-Instrumentalist, Educator, Bandleader of Freish Heir, Freelance)

Aaron Griffen (Guitarist, Drummer, Aaron Griffen Quartet, Soulard Blues Band, Freelance)

Ron Carr (Drummer, Educator, Steve Ewing, Ralph Butler, Smash Band, Sky Bop Fly)

Matt McKeever (Saxophonist, Educator, Fort Zumwalt South HS, Naked Rock Fight, Gateway City Big Band, Freelance)

Delano Redmond Trumpeter, Educator, East St. Louis High School, Jazz Edge, Freelance)

Nate Gilberg (Bassist, Educator, River Kittens, Ralph Butler, Freelance)

Craig Florez (Guitarist, Educator, Sky Bop Fly, Yard Squad, Freelance)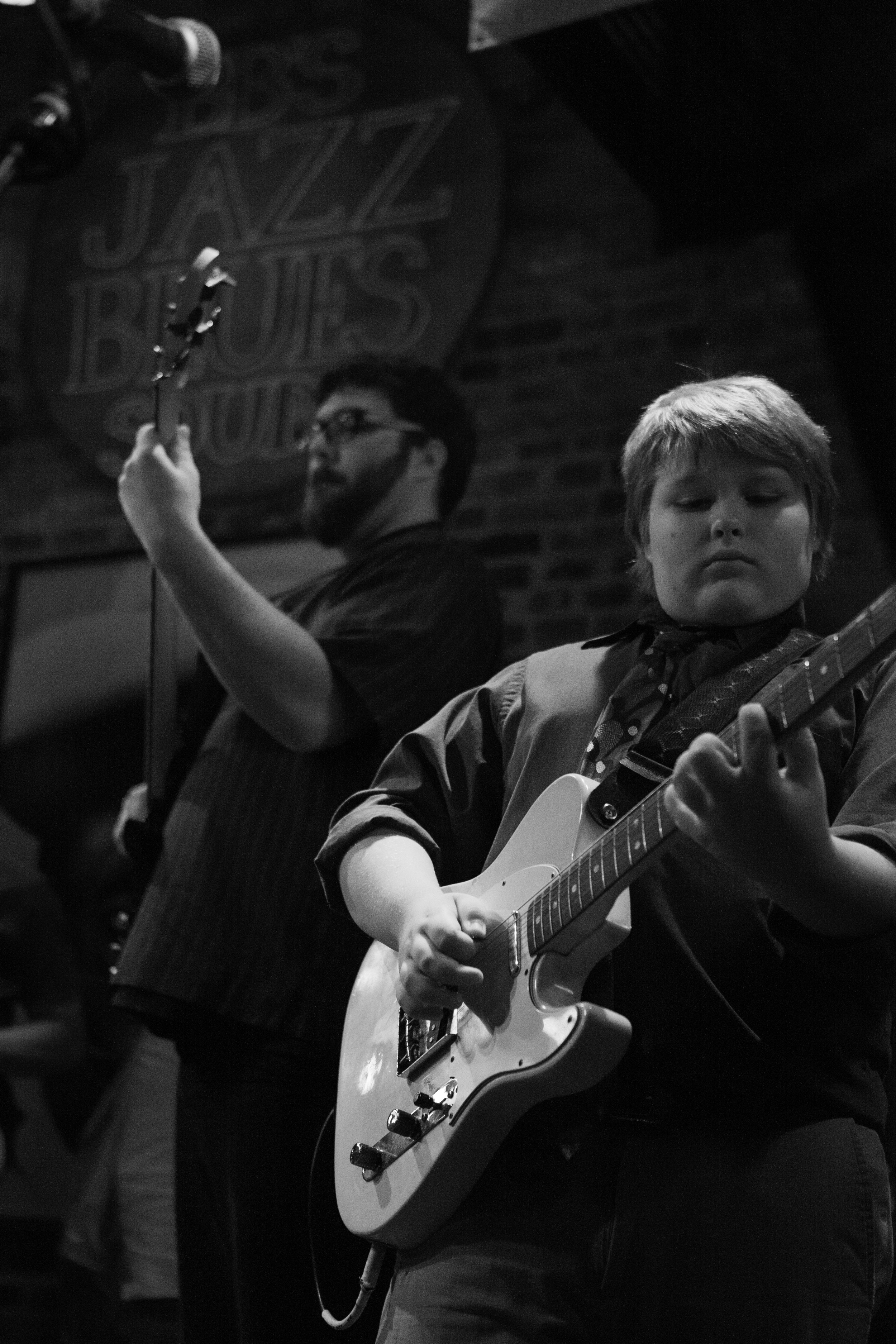 Upcoming Performances.
We are dedicating the winter of 2017/18 to education and planning. Look for us in the spring of 2018, and if anything comes up we'll keep you posted!
Student Involvement
St. Louis area students! Do you have a passion for jazz and blues music? Do you wish you had more opportunities perform music in a world-class band? We offer students the opportunity to perform on stage with professional musicians. We hold several rehearsals before each performance and have clinics and master classes with some of St. Louis' most successful musicians. If you are a student between the ages of 10 and 18 with dedication to music, we'd love to hear from you!
Board Member Opportunities
St. Louis Legacy Ensemble is currently looking for board members. If you have an interest in supporting the history of music in the St. Louis area, and are seeking a way to support the future of local musicians, please consider joining our board. We are currently looking for people who have a passion for music and education to donate their skills and talents to our effort.
Volunteer Opportunities
St. Louis Legacy Ensemble is always looking for volunteers as well. If you'd like to volunteer at an event, assist at our practices, or provide other volunteer assistance, please fill out the form to the right.
Want More Info? Contact Us Below!
St. Louis Blues - Brian Casserly leading the ensemble in his own arrangement of the classic song.